During our recent Disneyland® Resort Trip, we made it a priority to try as many of the dining packages as possible.
One of the experiences at the top of our list was the Frozen Dining Package which includes a 3-course meal at Carthay Circle Restaurant in Disney's California Adventure® Park and priority seating to one showing of Frozen — Live at the Hyperion! — along with a collectible lanyard and souvenir trading pin.
Pricing
The Frozen Dining Package costs $89 per adult and $45 per child (ages 3 to 9), plus tax and gratuity. There is no charge for children under 3 years of age.
Quick Facts
Required admission to Disney California Adventure Park is not included in the price of this dining package.

Space is limited and advance registration is required.

Credit card guarantee is required at time of booking.

Cancellation must occur at least 24 hours prior to the reservation to avoid a $10 per person cancellation fee.

Check-in takes place at Carthay Circle Restaurant in Disney California Adventure Park.

Annual Passholder discounts are not available for this package.

All information—including, without limitation, prices, food options, services, locations, dates, menus and times—is subject to restrictions and change or cancellation without notice.

Frozen – Live at the Hyperion may be canceled due to technical issues without notice. Dining packages will not be refunded.
Ambiance of Carthay Circle
Carthay Circle is a glamorous return to Hollywood's Golden Age, as the restaurant is modeled after the Carthay Circle Theatre, which premiered Walt Disney's first animated feature film — Snow White and the Seven Dwarves — in 1937.
The interior is absolutely stunning to say the least. I immediately fell in love with the nostalgic feel and atmosphere. Giant, life-size portraits of Walt Disney courting various movie stars and working with his animators adorn the walls. And the main dining room has a stunning vaulted ceiling which contains not only beautiful pastoral paintings of scenes from Snow White and the Seven Dwarves, but golden chandelier's in the shape of the Evil Queen's crown, along with a poison apple dangling from the center.
It's definitely a sight to behold and a exquisite place to dine.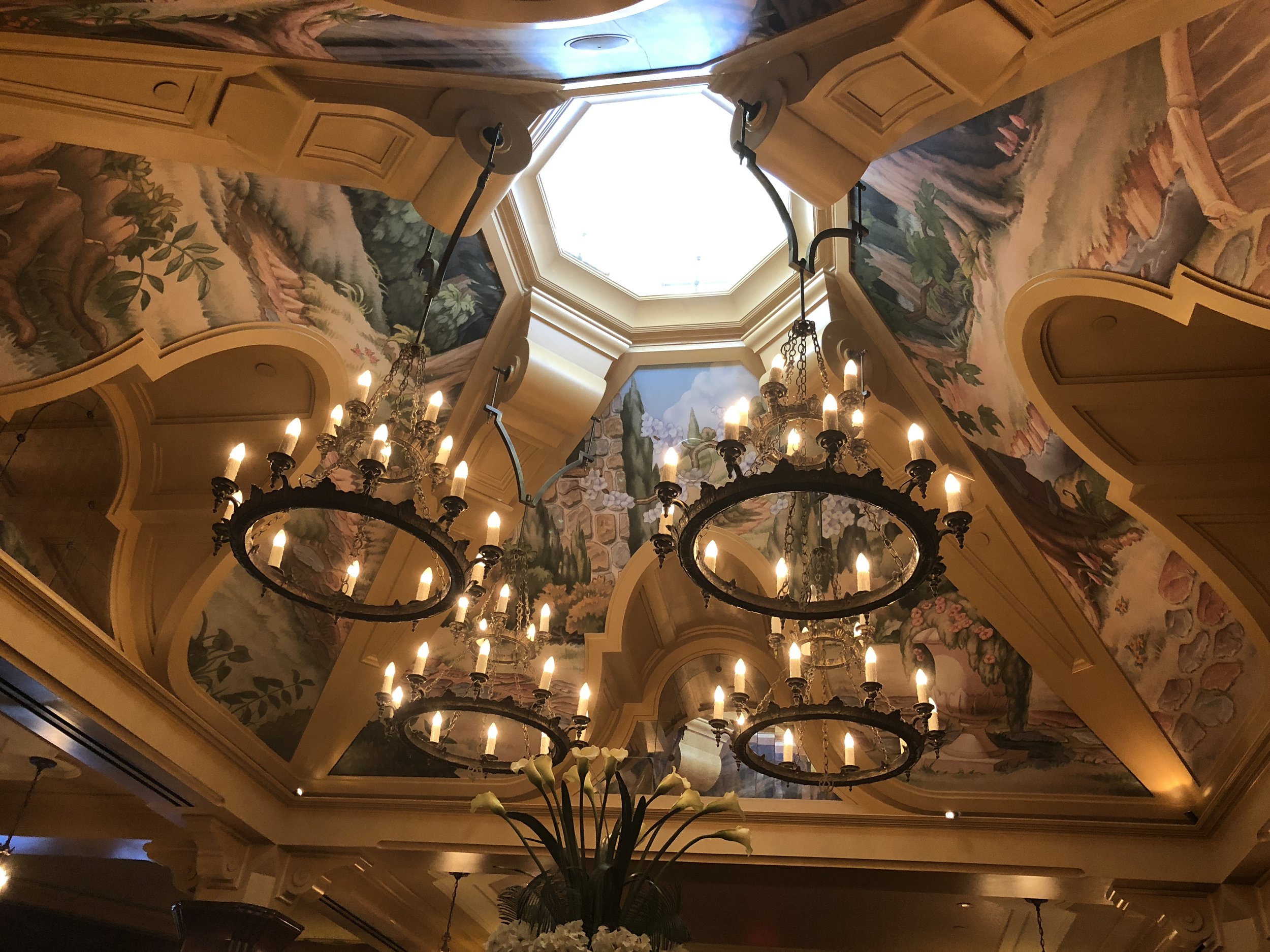 The Food
As with any three-course, pre-fix menu, you have limited options. Your appetizer and dessert is already pre-selected for you. The only choice you get to make is in regards to your entree.
The first course, called 'Overture,' consisted of Creme Fraiche Aebleskiver with Lingongberry Jam. This was basically a fancy donut whole, lightly dusted with powdered sugar and served with a dipping jam. It was very good, but not eye opening.
The second course, 'Act One,' was a soup and salad duo. The soup was a Corn-Jalopeno Soup with Nueske's Ham and Blackberry Grilled Chicken Breast. The salad was the Carthay Circle Summer Salad — arugla, local apricot, cashews, goat cheddar, and golden balsamic vinaigerette. Both of these were absolutely delicious! The soup reminded me of a chicken-tortilla soup (minus the tortillas) — it had a great flavor and wasn't too spicy. And the salad was a perfect blend of sweet and salty.
The third course, 'Act Two,' offered a choice between Sustainable Catch of the Day, Roasted Chicken Breast, or a Petite Filet of Angus Beef. We both decided to try the Roasted Chicken Breast — served with heirloom tomatoes, roasted corn, and a Yuzu Basil vinaigrette. And... we were disappointed with it. The vegetables were an odd mix of flavors — spicy and sweet. And the chicken, while cooked to perfection, had a dry rub seasoning on it that just didn't taste very good. We noticed several other diners around us who had ordered the filet of beef, and we wish we had ordered that instead.
The last course, 'Finale,' was Olaf's Summer Dream Vacation. It was a vanilla creme filled dessert made to look like Olaf, complete with chocolate-stick arms. It was so good and totally instragram worthy.
The Preferred Seating
After paying for your meal, your given one Frozen Preferred Seating Voucher for each person in your party. Usually there are three shows of Frozen each day — 12pm, 3pm, and 5pm — so your show time is determined by your meal time. Our reservation was at 12:50pm which meant our vouchers were only good for the 3pm show.
Our server made sure we understood were to line-up for the VIP seating (on the opposite side of stand-by seating) and gave us some very helpful pointers. She told us to:
Arrive at least 30 minutes prior to showtime.

That the best seats were fourth row, center.

If we missed our show for any reason, to bring our voucher back to the restaurant and they would do their best to replace it for a subsequent showtime during the remainder of our visit.
We did everything that she told us to do. When we arrived thirty minutes prior there was already a short line of people waiting, but nothing compared to the stand-by lines. We were let into the theatre about twenty minutes prior to showtime and had no problem snagging fourth row, center.
And our server was right — they were the best seats in the house! They were as close as you could get to the action, without being so close that you missed some of the projections or affects.
Was it Worth the Cost?
I have to admit, I like the movie Frozen, but I'm not a die-hard Frozen fan; I did however, love this musical version. It was a high quality show with broadway level performances, design, and special effects. It's not something you want to miss when visiting the Disneyland® Resort.
As for the dining package, we think it was totally worth the cost. It's way less waiting, you get the perfect seats, get an amazing meal, and you walk away with a collectible trading pin. If you can afford it, we don't think you can go wrong with this one.
Want a Disneyland Expert to Help You Plan?