By: Brandon Foster | 4 Minute Read
When people think of meeting Disney Princesses at Walt Disney World, their first thought is usually Cinderella's Royal Table. However, it's difficult to book and comes with a high price tag (two table-service meal entitlements). That's why many guests love Akershus Royal Banquet Hall — you still get to dine with princesses, reservations are much easier to come by, and it's cheaper. But is it just as magical?
We decided to check it out for ourselves.
Location and Pricing:
Akershus Royal Banquet Hall is located in the Norway Pavillion of Epcot. The cost for breakfast is $48 per adult and $27 per child. Lunch and dinner costs $60 per adult and $30 per child. On the Disney Dining Plan it's one table-service meal entitlement. They do accept Tables in Wonderland for a 20% discount.
Atmosphere:
Like Cinderella's Royal Table, the interior design of Akershus Royal Banquet Hall looks and feels like a storybook medieval castle — complete with stone archways, ornate tapestries, vaulted ceilings, and regal purple carpet. It's the perfect atmosphere for a princess dining experience and will make everyone in your party feel like their royalty.
The Food
For breakfast, Akershus Royal Banquet Hall serves more traditional American fare; but for lunch and dinner, Norwegian dishes are served. We'd heard good things about breakfast but mixed reviews on dinner. So, we decided to be adventurous and go for dinner!
In lieu of appetizers, dinner starts with a "Taste of Norway" buffet — featuring the finest Scandinavian seafood, imported cheeses, cured and sliced meats, and a vast selection of salads and fruits. While the selections were not extraordinary, they were quite tasty. My favorite dish was a cold tomato penne pasta — that was amazing!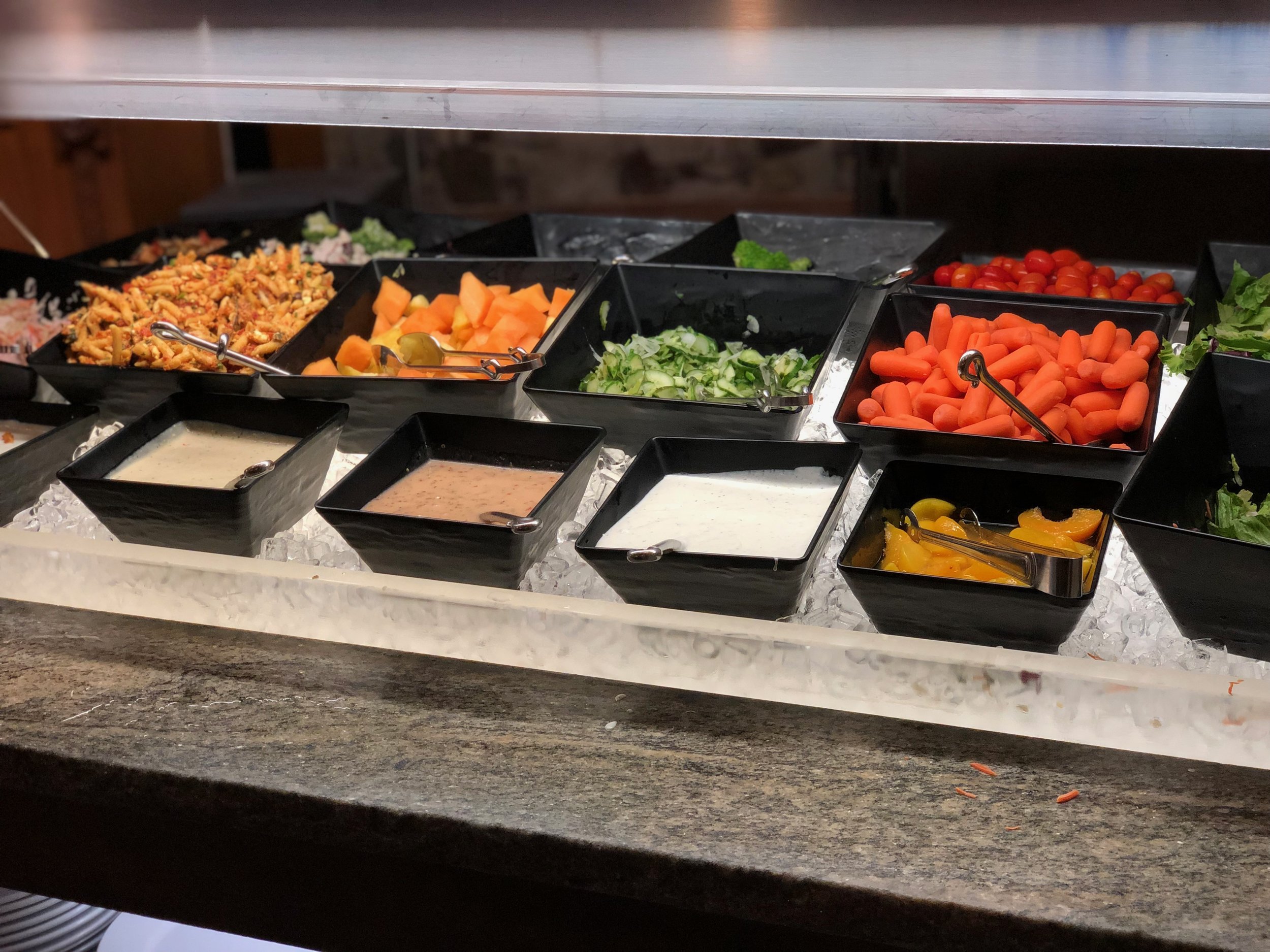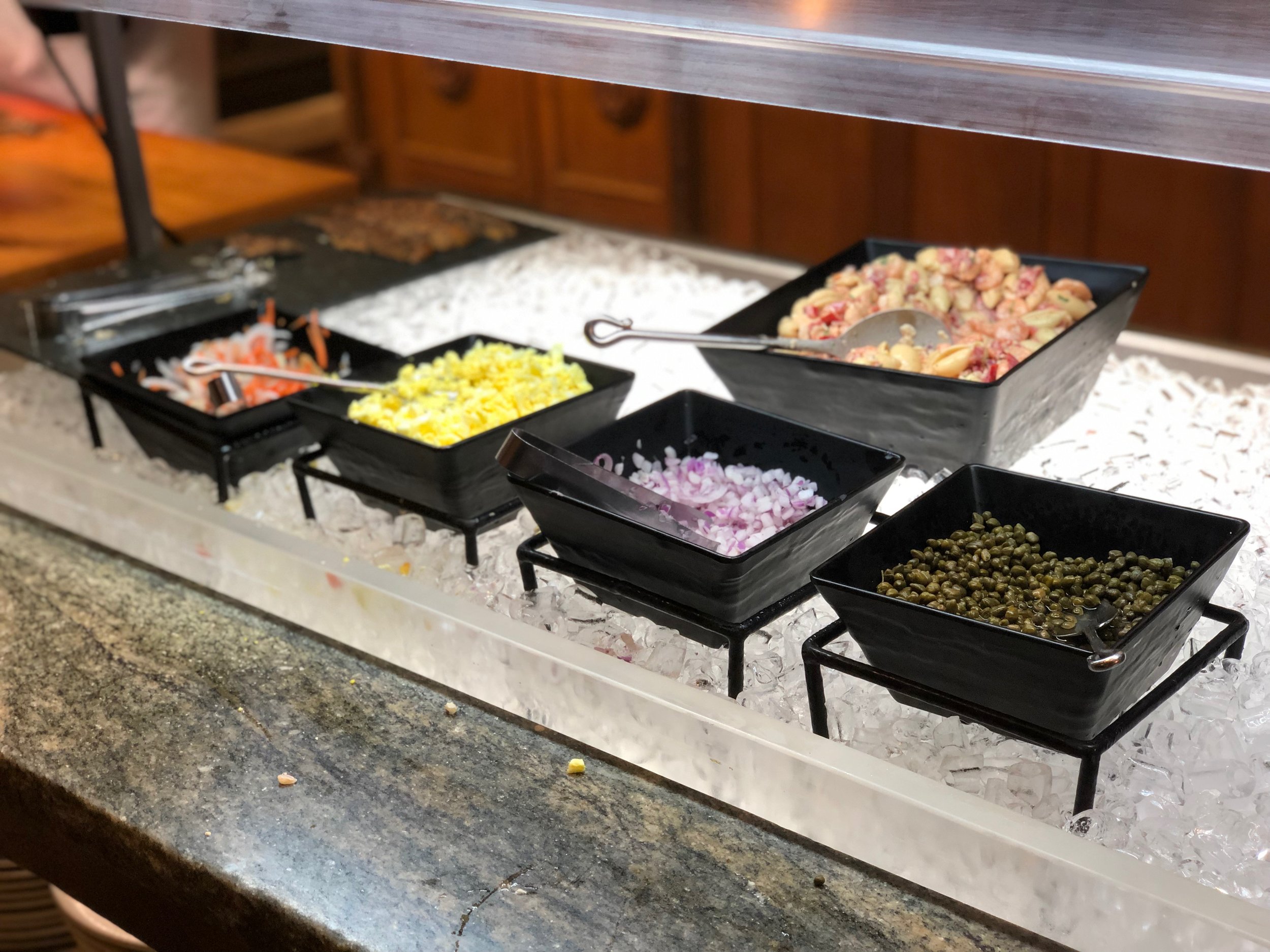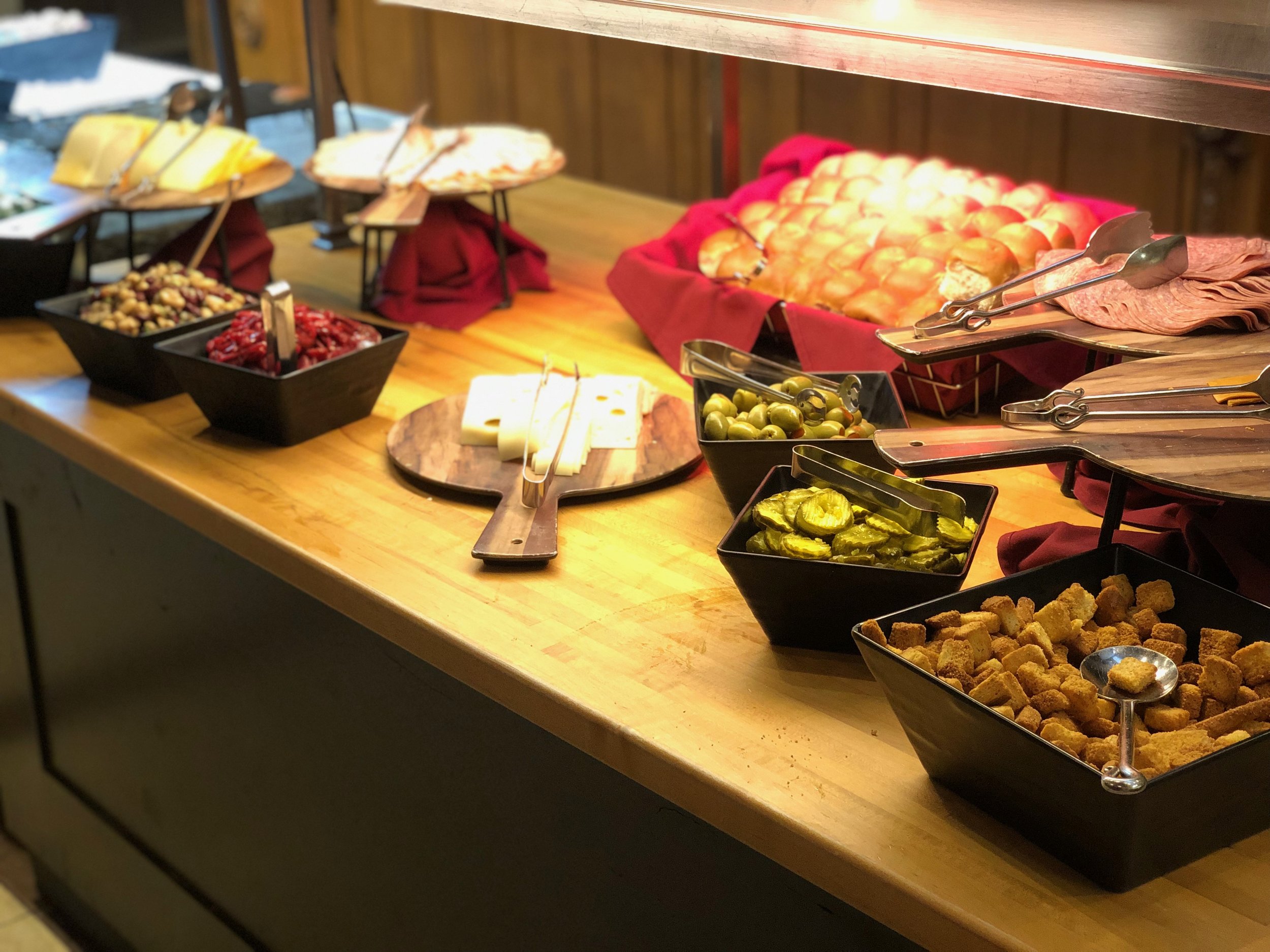 For my entree I chose the Kyllingbryst (herb-roasted chicken breast) — served with sweet potato and cranberry bread pudding, asparagus and carrots, and Gjetost pan gravy. And my husband chose the Laks (grilled filet of salmon) — served in a citrus smoked salmon butter.
The chicken was tender and moist, and the gravy absolutely divine. I wish I had asked for more to dip my chicken in. The veggies were good too — nicely seasoned — but the star was definitely the sweet potato and cranberry bread pudding. I'd never had anything like it before! I want the recipe!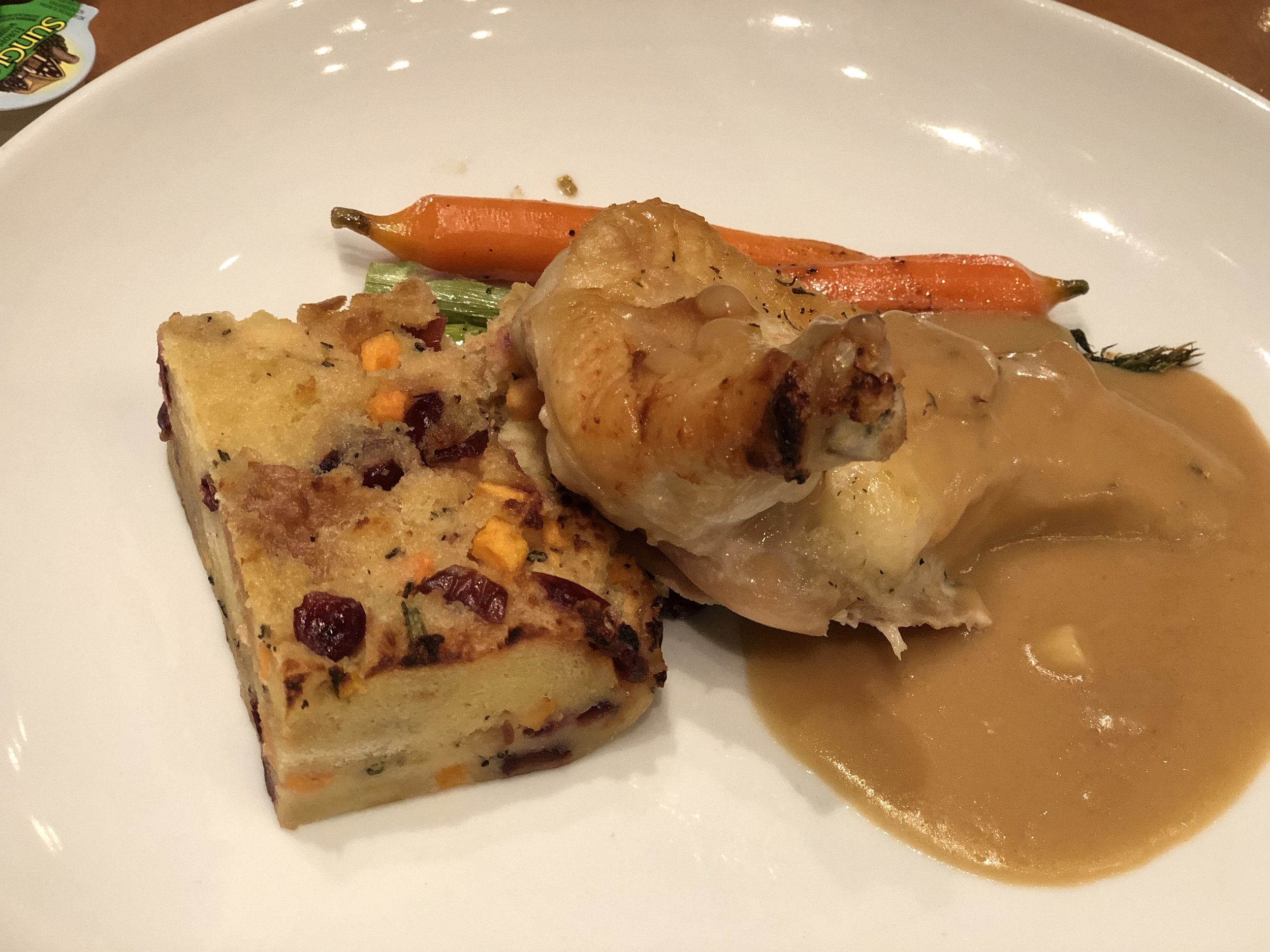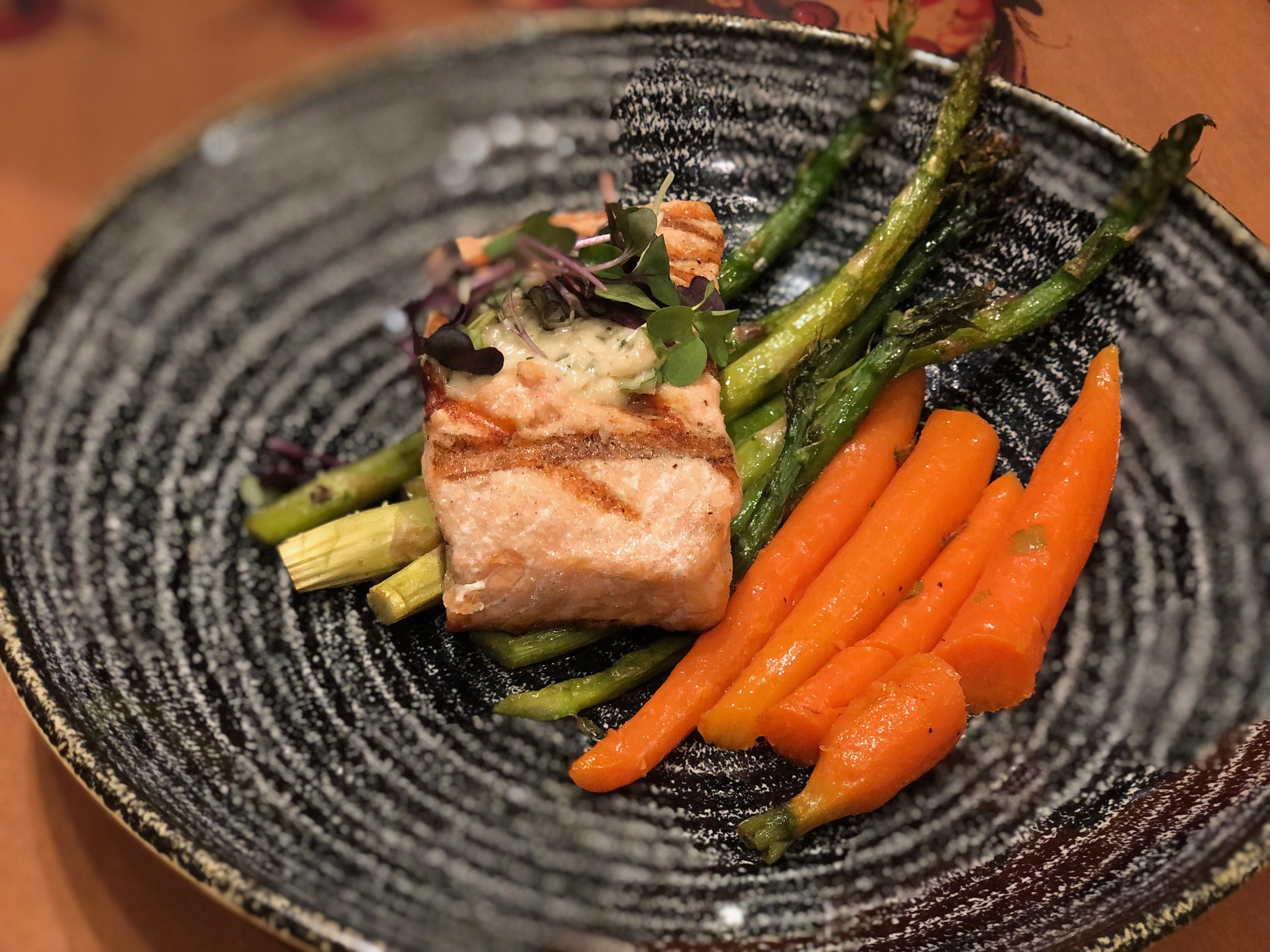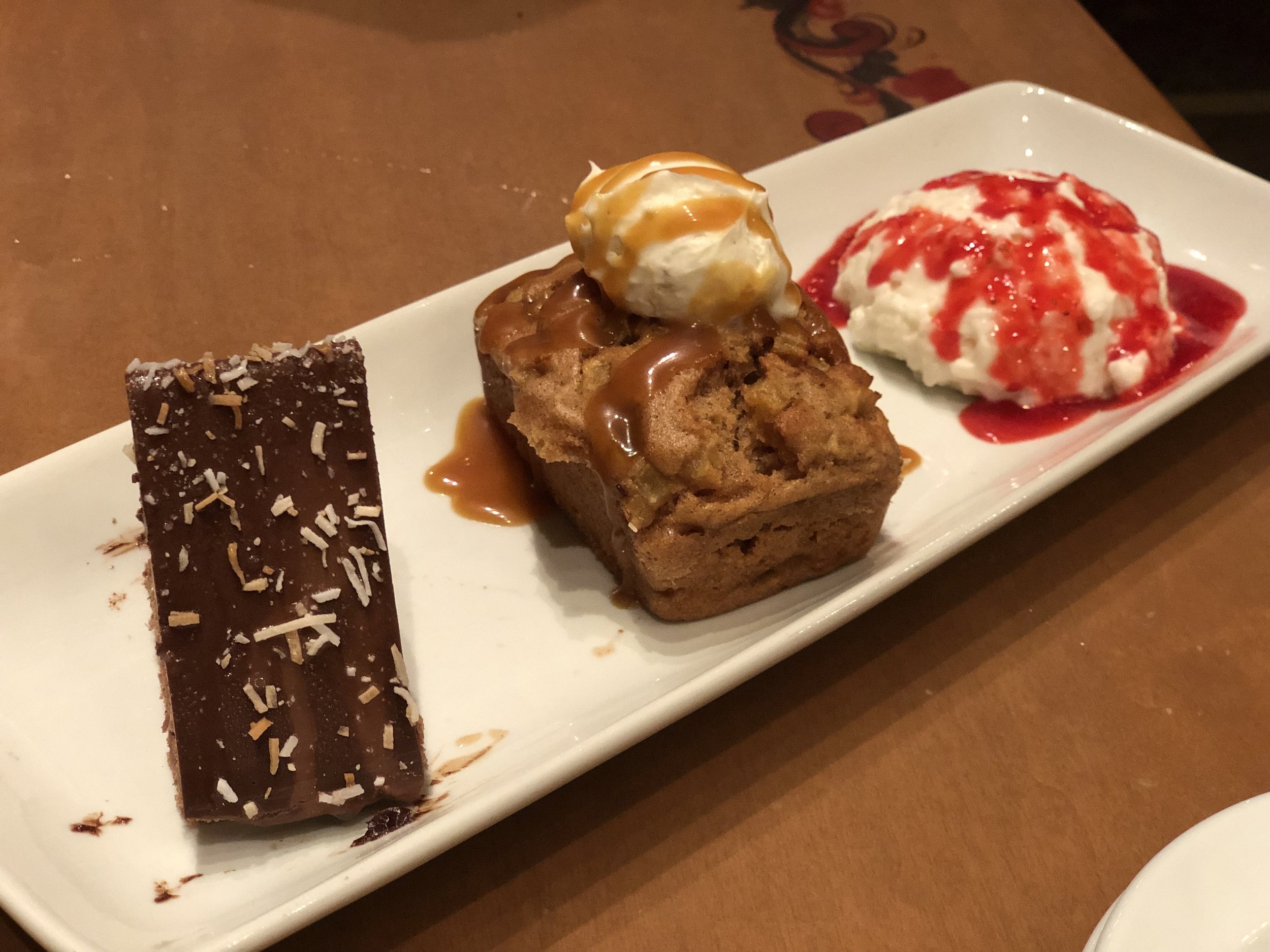 My husband said the salmon was tender and moist but wouldn't rave about it. "Good but not great." is how he put it. Take that as you may.
For dessert you're served a family-style trio of Norwegian inspired dishes — chocolate mousse cake, cinnamon apple bread, and a rice pudding mixed with whip cream and drizzled with strawberry sauce. The chocolate mousse cake was by far my favorite. Any chocolate lover will be in heaven. The other two were good too, but the cinnamon apple bread was a little dry and I'm not a huge fan of rice pudding.
The Princesses
In addition to your meal, you'll get to see five Disney Princesses. Before being seated, you'll meet the first princess — Belle. A photopass photographer will be on hand to snap a photo for you. Once you're seated, you'll be visited by Snow White, Princess Aurora, Ariel, and Cinderella. Each one will stop by while you enjoy your meal.
Meeting the princesses is truly what Akershus Royal Banquet Hall is all about, and we were not disappointed. Each princess took their time visiting with us — taking pictures, signing their autographs, and answering our questions. We never felt rushed, and they truly made us feel like we were kids again.
I asked Snow White where I could find gooseberries for a third time, but her answer remains cryptic. At least she invited us to visit her cottage and and the dwarfs' mine. That was nice. She said we might even be able to take a jewel back home with us!
Is it worth it?
If you're a fan of Disney Princesses and character-dining experiences, then this is something that you will absolutely love and enjoy. But if you're a die-hard foodie, you probably won't be impressed. The food is very good, just not great. The magic here is with the atmosphere and the princesses.
Other Articles You Might Enjoy:
What to Pack in Your Disney Park Bag
What is Disney Character Dining?
6 Easy Ways to Save Money on Your Disney Vacation
Like, follow, & share the magic!